Ett Svenskt 80-tal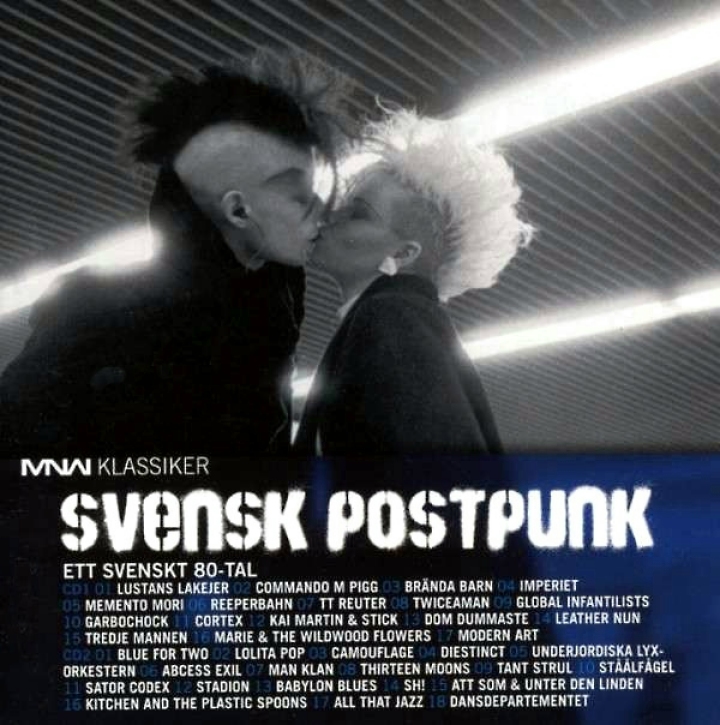 Svensk Postpunk – Ett Svenskt 80-tal
MNW, 2cd 2007
Det svenske skivbolaget MNW tok sats i 1969 og var gjennom de neste par tiår Nordens største uavhengige selskap for og distributør av musikk. Serien 'MNW Klassiker' har gjennom de seneste år skjenket oss en rekke samlere tilegnet mange av Sveriges beste band, samlere av anstendig kvalitet og til sympatisk pris
Fra den rikholdige katalogen har de også puslet sammen temasamlere til inklusjon i 'MNW Klassiker', så som omhandlende punk, prog og viser. «Svensk Postpunk», med undertittel «Ett Svenskt 80-tal», inngår i serien og er en riktig fin prøvesmak på den mengde artister Sverige fostret i tiden etter punk.
Trettifem kutt på aksen 1980 – '88, med – tittel tatt i betraktning – naturlig tyngdepunkt tillagt periodens yngre år. Enkelte navn er velkjente størrelser, andre er noe mer perifére, og en god andel er nok heller uhørte på vår side av grensen. Slettes ikke alt er direkte rystende bra, slettes ikke alt smelter presist inn i allmenn definisjon av det noe diffuse, og brede, begrep 'postpunk'. Men som riss over og en invitasjon til grundigere utforskning av tiårets mer eller mindre alternative svensker, fungerer «Svensk Postpunk» til stå og vel så.
Her i huset gikk den rett hjem, med som resultat nyoppfrisket anerkjennelse av hvor sterke broderfolket var – og er – innen segmentet pop / rock. Informativ linernote, to linjer viet hver av artistene, presise data for hvert kutt, samt en håndfull bilder; gir i spann med det musikalske omfang inntrykk av solid pakke. For en utgivelse hvis prislapp vakler mellom 100 +/-, innebærer dette et realt varp for den som går med vagt eller undertrykket ønske om dypere dykk i det svenske 80-tall.
TRACKS
CD1: Lustans Lakejer – Massans Sorl / Commando M Pigg – Mot Stjärnorna / Brända Barn – Under Ditt Skinn / Imperiet – Blå Himlen Blues / Memento Mori – Nu Vaknar Tusen Själar / Reeperbahn – Marrakesh / TT Reuter – 2000 År / Twice A Man – Russian Tractors / Global Infantilists – A Sense Of Belonging / Garbochock – Invasion / Cortex – The Freaks / Kai Martin & Stick – Rör, Rör, Rör Dig Nu / Dom Dummaste – Jesu Kristi 100 Krig / The Leather Nun – Gimme Gimme Gimme / Tredje Mannen – Cul-De-Sac / Marie & The Wildwood Flower – Salty Hound / Modern Art – Behind Mickey Mouse
CD2: Blue For Two – Stay Casey / Lolita Pop – Salta Diamanter / Camouflage – Syster Sol / Diestinct – Ensam För En Dag / Underjordiska Lyxorkestern – Gary Nilsson, I Love You / Abcess Exil – Stjärnor Faller / Man Klan – Love For Pleasure / Thirteen Moons Suddenly – One Summer / Tant Strul – Amason / Ståålfågel – En Dag I Varuhuset / Sator Codex – Leech / Stadion – Hunger / Babylon Blues – Har Vi Inte Grävt För Många Hål? / SH! – Skrik / Att Som & Unter Den Linden – Fixerad / Kitchen And The Plastic Spoons – Liberty / All That Jazz – Banner Of Love / Dansdepartementet – Wankers!