The Groovy Kings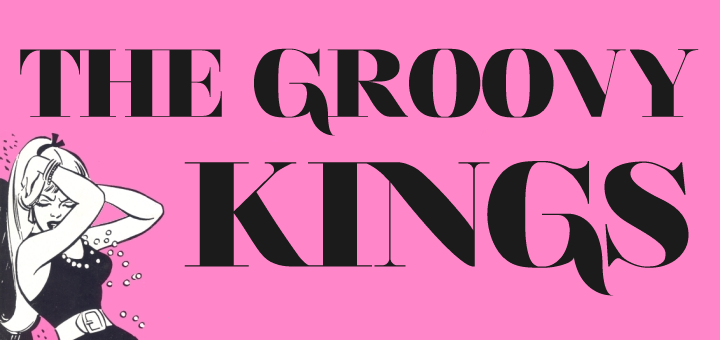 Arne Thelin skal ha stor del av æren for oppblomstringen av norske garasje- og powerpopband ved tiårskiftet '80s / '90s. Dette både i kraft av rollen som vokalist i flere av scenens største navn, og som hyperaktiv bakmann.
Som vokalist i The Cosmic Dropouts (hvis debut-ep «Crashed Cadillacs And Broken Hearts» (1988) på mange måter markerer starten for denne generasjonen av norsk garasje), The Lust-O-Rama (som fra høsten 1989 til gravøl sommeren 1993 representerer det kanskje aller heftigste scenen skapte), The Kwyet Kings, The Bittersweets og – vel så viktig – som boss for selskapet That's Entertainment; berørte Thelin store deler av norsk undergrunn gjennom ti år eller så.
Etter år i eksil – med bandet Bithammer! som hobbyprosjekt – dukket Thelin igjen opp i Moss høsten 2008, da i front for The Groovy Kings. Hvilket er et bandnavn som kobler tråder mellom The Cosmic Dropouts (minialbumet «Groovy Things» (1989)) og The Kwyet Kings. Tråden begrenser seg ikke kun til navn, for The Groovy Kings' misjon er å fremføre låter fra katalogen til de fem nevnte band. Foruten Thelin som skriker og hoier, teller The Groovy Kings Stig Amundsen (bass, ex-Gluecifer / The Kwyet Kings), Øystein Alsos (gitar), Stian Gulbrandsen (gitar) og Magnus Dahle Knudsen (trommer). Minus orgel i manntallet til tross; det låter riktig tøft.
Album med nye versjoner av hits fra The Cosmic Dropouts, The Lust-O-Rama, The Kwyet Kings, The Bittersweets, og Bithammer! er lovet…
If any cool labels out there want to release the album, get in touch! If not, we'll bloody well do it ourselves!!!
…må de styre, stelle og utgi for egen motor, krysser vi fingre for at vinylen bærer That's Entertainment som label.
For noen relaterte ord på disse sider, se omtale av «Let's Go To The Beach» (1989). Spesielt interesserte vil muligens også finne glede i hva som var blant de første artikler om Thelins og The Cosmic Dropouts' bevegelser; hentet fra platesamlermagasinet Vinyl (#8, 1988):