Deluxe for The Damned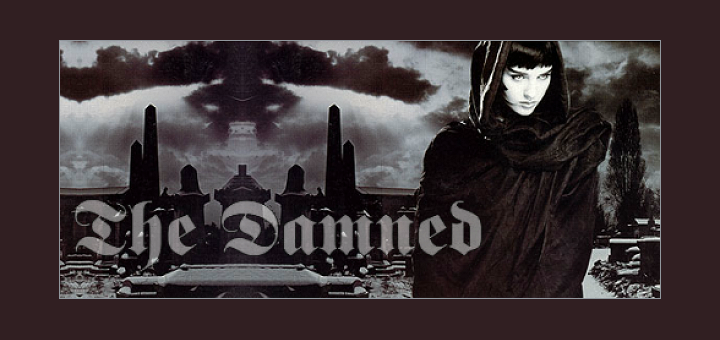 The Damned har stemplet inn for mange selskaper og utført noe nær ditto mange musikalske hamskifter gjennom lang karriere. For den eldste garde som hadde fulgt The Damned helt fra oppstart av i 1976, står trolig MCA-epoken som den tyngste å svelge.
Gitarist Captain Sensible forlot bandet etter «Strawberries» (1982) for å følge opp en solokarriere som på det tidspunkt fremstod svært lovende (hans single «Happy Talk» kapret #1 på den engelske singlelisten i 1982). I hans sted kom gitarist / keyboardist Roman Jugg inn, som sammen med vokalist Dave Vanian dro The Damned i retning mer poporientert terreng og med en touch av goth on top. I seg selv ikke noe radikalt nytt, for goth'en var sterkt tilstede på «Strawberries» og pop'en kom til syne allerede på «Machine Gun Etiquette» (1979).
Samtlige album forut for MCA var imidlertid forankret i punk, hvilket fikk trofaste tilhengere fra de første dager til å henge med på The Damneds utvikling. De to albumene for MCA – «Phantasmagoria» (1985) og «Anything» (1986) – hadde lite tilbake av den forankringen og ble (og er) lite aktet av den harde kjerne. Noe som tatt den suksess «Phantasmagoria» opplevde – #11 i England og med det The Damneds høyeste score på albumlisten – neppe bekymret bandet i særlig grad. Da «Eloise», en cover av Barry Ryans hit fra 1968, ble utgitt som frittstående single vinteren 1986 og klatret helt til #3; var en eventuell bekymring over misnøye blant gamle fans garantert blåst bort.
Symptomatisk nok for The Damned raste den kommersielle fremgangen sammen like fort som den kom. «Anything» ble mageplask, nesten ingen ville ha eller høre det, og under innspilling av potensielt nytt album fikk MCA nok og kastet The Damned ut bakdøra. Med det resultat at The Damned gikk i dvale og ikke lanserte noe nytt album før i 1996.
Det finurlige med The Damneds par år på MCA, er at dette for noen er den av bandets tidsperioder som fenger best. For disse er The Damneds første plater av heller liten interesse, det er – især – «Phantasmagoria» og – i noe mindre grad – «Anything» som er basis for disses forhold til The Damned. Ett band, to dels adskilte publikum. Samt selvsagt den fraksjon som følger The Damned i tykt, tynt og omfavner alt.
Hverken «Phantasmagoria» eller «Anything» har vært lagervare de seneste år, så derfor bør det glede enkelte at begge nå nylig ble utgitt i 2cd-utgaver, remastered og med mengder av bonus på trekk.
Phantasmagoria cd#1:
Street Of Dreams / The Shadow Of Love / There'll Come A Day / Sanctum Sanctorum / Is It A Dream / Grimly Fiendish / Edward The Bear / The Eight Day / Trojans / Grimly Fiendish – The Bad Trip Mix / The Shadow Of Love – 10 Inches Of Hell Mix / Is It A Dream – Wild West Express Mix
Phantasmagoria cd#2:
Grimly Fiendish – Spic 'N' Span Mix / Edward The Bear – Single Version / The Shadow Of Love – The Pressure Mix / Nightshift / Let There Be Rats / Wiped Out / Would You / Is It A Dream – Wild West End Mix / Street Of Dreams – Live / Curtain Call – Live / Pretty Vacant – Live / Wild Thing – Live / The Shadow Of Love – BBC Radio 1 Session / Is It A Dream – BBC Radio 1 Session / Street Of Dreams – BBC Radio 1 Session
Anything cd#1:
Anything / Alone Again Or / The Portrait / Restless / In Dulce Decorum / Gigolo (Album Version) / The Girl Goes Down / Tightrope Walk / Psychomania / Eloise (Extravagant Mix) / Anything (Yet Another Mix) / Gigolo (12″ Remix Version) / In Dulce Decorum (Dub)
Anything cd#2:
Eloise (Extended Version) / Temptation / Beat Girl / Anything (Another Mix) / The Year Of The Jackal / Thanks For The Night (Rat Mix) / Anything (Instrumental Mix) / Gigolo (Edited Single Version) / Alone Again Or (Mixed Again) / Psychomania (Live) / In Dulce Decorum (Extended Mix)