Orange Crush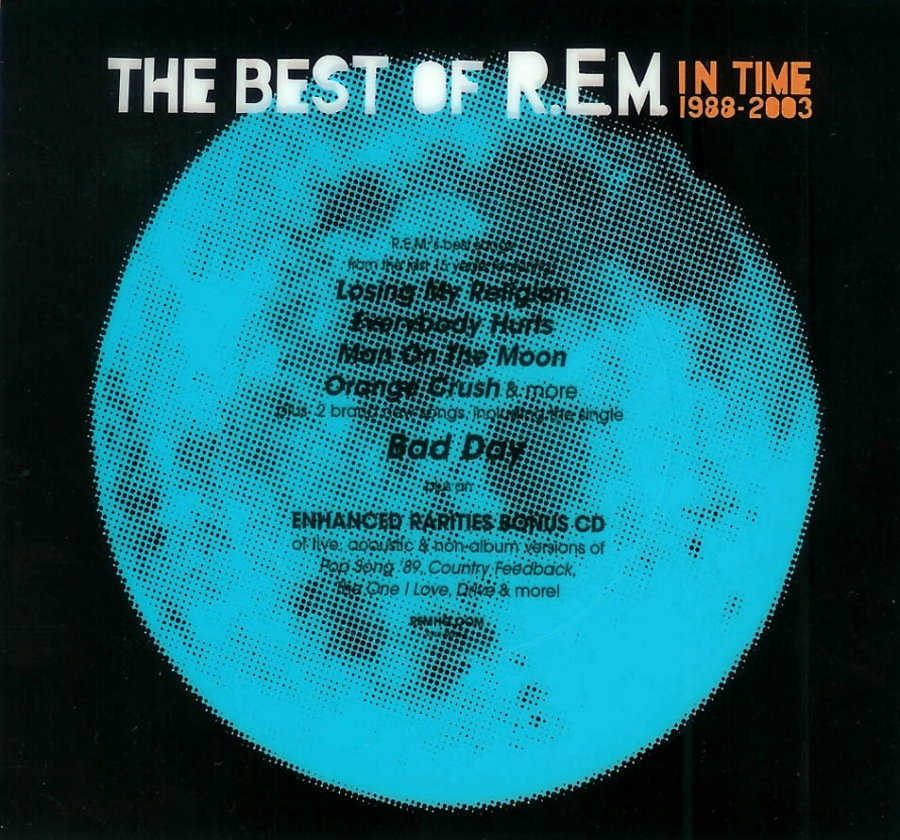 R.E.M., In Time: The Best Of 1988-2003
Warner Bros., 2cd 2003
«In Time: The Best Of 1988-2003» er det første samlealbumet med R.E.M. som setter fokus på tiden etter overgangen fra det ganske lille I.R.S. til giganten Warner Bros. tilbake i 1988. Med femten år tilbakelagt og en stor produksjon i løpet av tiden under Warner Bros., hadde det egentlig vært en smal sak å fylle to stk. cd'er med best of-materiale.
De atten sporene som er inkludert tilfredsstiller trolig de aller fleste tilfeldige lyttere som kun vil ha lett tilgang på samtlige av bandets største hits fra 90-tallet; men som en grundig oversikt over R.E.M.s produksjon de siste femten årene kommer albumet noe til kort. For øvrig tildeles et stort minuspoeng for ikke å ha inkludert «Drive».
En temmelig stor del av albumets førsteopplag kommer i utgave 2xcd, som foruten hovedcd'en inkluderer en bonuscd bestående av demoer, liveopptak og diverse rariteter. Det vil si at ltd. ed. utgaven på sett og vis fyller samme funksjon for Warner Bros.-årene som «Eponymous» (Best Of, 1988) og «Dead Letter Office» (Rarities, 1987) gjør for tiden på I.R.S. I tillegg til en ekstra cd består denne utgaven også av en kjekk poster og en liten bok hvor Peter Buck kommenterer hvert spor.
Selv om det meste av det som befinner seg på bonuscd'en hovedsaklig er egnet til å begeistre de med et virkelig tett forhold til R.E.M., er likevel ltd. ed. utgaven å foretrekke. Ganske enkelt fordi man med den versjonen får et bredere bilde av bandet R.E.M. enn hva enkeltutgaven alene kan gi.
TRACKS
CD1: Man On The Moon / The Great Beyond / Bad Day / What's The Frequency, Kenneth? / All The Way To Reno / Losing My Religion / E-Bow The Letter / Orange Crush / Imitation Of Life / Daysleeper / Animal / The Sidewinder Sleeps Tonite / Stand / Electrolite / All The Right Friends / Everybody Hurts / At My Most Beautiful / Nightswimming
CD2: Pop Song '89 (acoustic) / Turn You Inside-Out (live) / Fretless / Chance (dub) / It's A Free World Baby / Drive (live) / Star Me Kitten / Revolution / Leave (alt. version) / Why Not Smile (alt. version) / The Lifting (demo) / Beat A Drum (demo) / 2jn / The One I Love (live) / Country Feedback (live)