Sounds of Science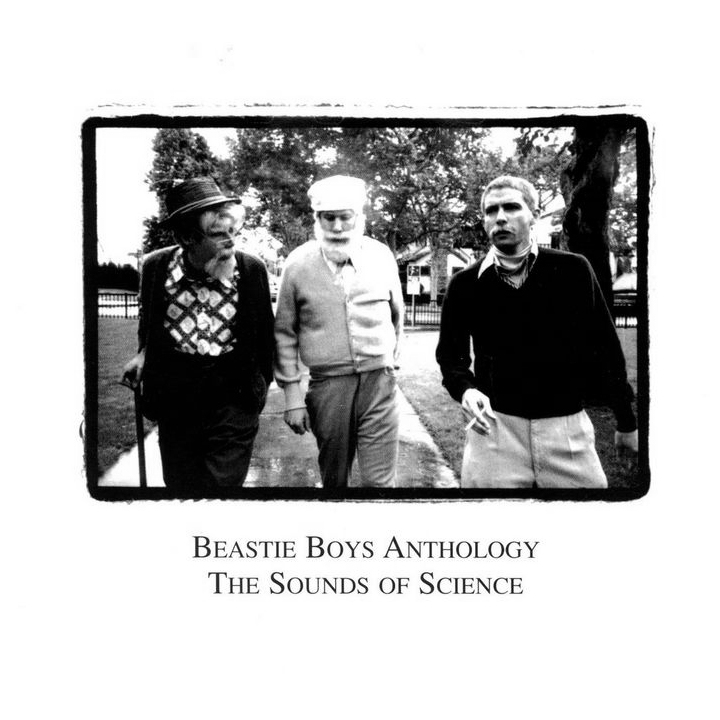 Beastie Boys, Anthology – The Sounds Of Science
Capitol, 2cd 1999
Beastie Boys befinner seg i en egentlig ganske så unik posisjon. Tre hvite menn hvis musikk er forankret i en sjanger dominert av sorte, har gjennom år bygget seg opp en bred grad av aksept og respekt som få andre kan vise til.
De tilhører et mikroskopisk antall artister med basis i hip hop som tolereres av selv de mest fordomsfulle rockere, og det uten at dette har kostet dem kompromisser eller tapt anseelse blant sine egne. Skjønt egne og egne; Beastie Boys har alltid vært sine egne egne. Fra kick off som punkere i 1979, via miks mellom rap og hardrock, til etterhvert å finne ståsted i sitt helt særegne sound.
Posisjonen skyldes selvsagt at Beastie Boys er så mye mer enn bare rap, de er også punk, funk, rock og i det hele tatt et lite laboratorium av alskens populærmusikalske knep. Det artige er at de i all sin vimsing mellom det rent ut sagt dustete og det genuint geniale, har grabbet til seg en nesten uhørt stor kommersiell plattform. Som eksempel på at det er fullt mulig å nå fryktelig langt gjennom å gjøre sin egen greie, er Beastie Boys en solid prototype.
«Anthology – The Sounds Of Science» er mer enn to timer musikk, omkranset av et hefte på åtti sider som gir bilder og informasjon til hvert enkelt kutt. Hørt uten pauseknapp er det to intense og rett så utmattende timer for den med distansert forhold til trioen, det store flertall vil nok få størst utbytte ved å forsyne seg med moderate porsjoner ad gangen.
Men uavhengig av behov og magemål, enten dette er begrenset til ønske om de store hits eller ekspandert til ønske om å grave dypere, er «Anthology – The Sounds Of Science» en obligatorisk samling.
TRACKS
CD1: Beastie Boys / Slow And Low / Shake Your Rump / Gratitude / Skills To Pay The Bills / Root Down / Believe Me / Sure Shot / Body Movin' / Boomin' Granny / Fight For Your Right / Country Mike's Theme / Pass The Mic / Something's Got To Give / Bodhisattva Vow / Sabrosa / Song For The Man / Soba Violence / Alive / Jimmy James / Three MC's And One DJ
CD2: The Biz Vs. The Nuge / Sabotage / Shadrach / Brass Monkey / Time For Livin' / Dub The Mic / Benny And The Jets / The Negotiation / Limerick File / I Want Some / She's On It / Son Of Neckbone / Get It Together / Twenty Questions / Remote Control / Railroad Blues / Live Wire / So What'cha Want / Netty's Girl / Egg Raid On Mojo / Hey Ladies / Intergalactic
Produsert av Beastie Boys, Mario Caldato Jr., Dust Brothers, Rick Rubin og Scott Jarvis