Feel Nothing med The Hermetic Electric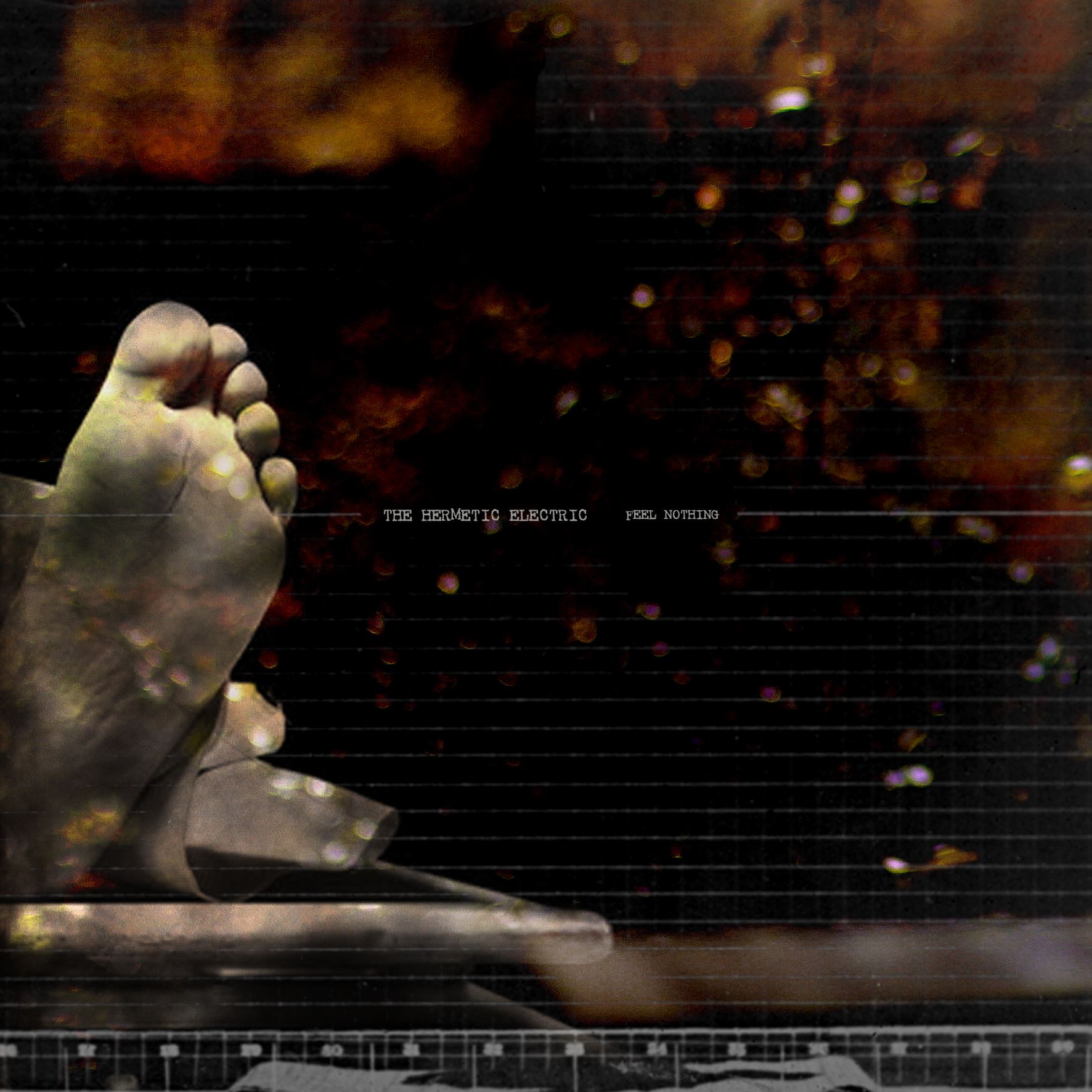 The Hermetic Electric, Feel Nothing
Darkitalia, cd/digital 2017
Når et band nevner, slik belgiske The Hermetic Electric gjør, så forskjellige navn som Joy Division, Massive Attack, Tortoise, Sonic Youth, Kraftwerk og Serge Gainsbourg blant sine inspirasjonskilder, er det aldri helt enkelt å vite hva en kan forvente. Det kan være saus og søl, eller – som med The Hermetic Electric – en varsom miks av influenser.
The Hermetic Electric består av Holly Nab aka Olivier P (vokal, gitar), Elfi S (synth) og Mathieu D (bass, progr.), de slo sine første takter i 2013 og har for egen maskin gitt ut minst tre EP'er pluss et par samlinger eller kombinasjoner på kryss og tvers av ymse materiale. Med hensyn til album anser de «Feel Nothing» for å være deres debut, utgitt i digitalt format denne uke under vingene av Darkitalia; CD-utgave er dessuten i emning og vil bli forhandlet direkte via bandet selv.
I likhet med The Hermetic Electric sine tidligere utgivelser befinner «Feel Nothing» seg i en luke mellom ulike sjangre. Hvorav darkwave smeltet i generøse mengder melankoli er bjelken blant de fra den ene kant mange blaff av kjølig postpunk og fra den andre kant rytmer av elektronika og trip hop. Slike fusjoner ender ofte i fadese, i et sted hvor ingen fra hverken den ene eller den andre kant blir tilfredsstilte, The Hermetic Electric balanserer dog stort sett stødig på sin line.
Første single – «Sunrise» – fra platen gir noen, men slettes ikke alle, hint om hva The Hermetic Electric sysler med, en stemningsfull låt midt mellom lys pop og mørke bølger, mellom klagende gitar og trippende rytmer. Mye av «Feel Nothing» har imidlertid en kjøligere klang enn «Sunrise», som «M.R.I.» hvis uttrykk blander cold wave og elektropop eller «Why Tears?» som flyter tungt av sted på ryggen av et sirkulært gitarriff og sørgmodige synthtoner. «M.R.I.» og «Why Tears?» er i skrivende stund de to av platens i alt syv kutt som faller aller best i smak, hakk i hæl på disse to følger det introverte åpningssporet «Out Of Coma»; i sound en slags elektronisk post-wave.
Det nærmere ti minutter lange tittelkuttet kapper alle trosser til forsøk på å binde The Hermetic Electric fast til noe annet enn hva de selv vil være. Tittelkuttet er elektro glide, elektro blues, i en form og et arrangement som et langt stykke på vei er behagelig besnærende, de avsluttende fem minutter sovner imidlertid hen og blir som å høre et uinspirert Porcupine Tree på sedativer. Hvilket er synd da «Feel Nothing» som album fortjener en langt skarpere avslutning enn som så.
Den noe døsige avslutningen rokker allikevel ikke ved det faktum at «Feel Nothing» er et album inneholdende mye fint. The Hermetic Electric har så absolutt en personlig vri på det de gjør og det lydbilde de skaper, i deres aller beste stunder i slik en grad at «Feel Nothing» fremstår som et vellydende alternativ til mye av dagens mer formelpregede dark- / electro- og cold wave.
TRACKS
Out Of Coma / M.R.I. / Why Tears? / Sunrise / Interlude / Not Too Deep / Feel Nothing
Produsert av Olivier P
CD-utgaven av albumet er å finne hos hermeticelectric.bandcamp.com