Moments of Perfection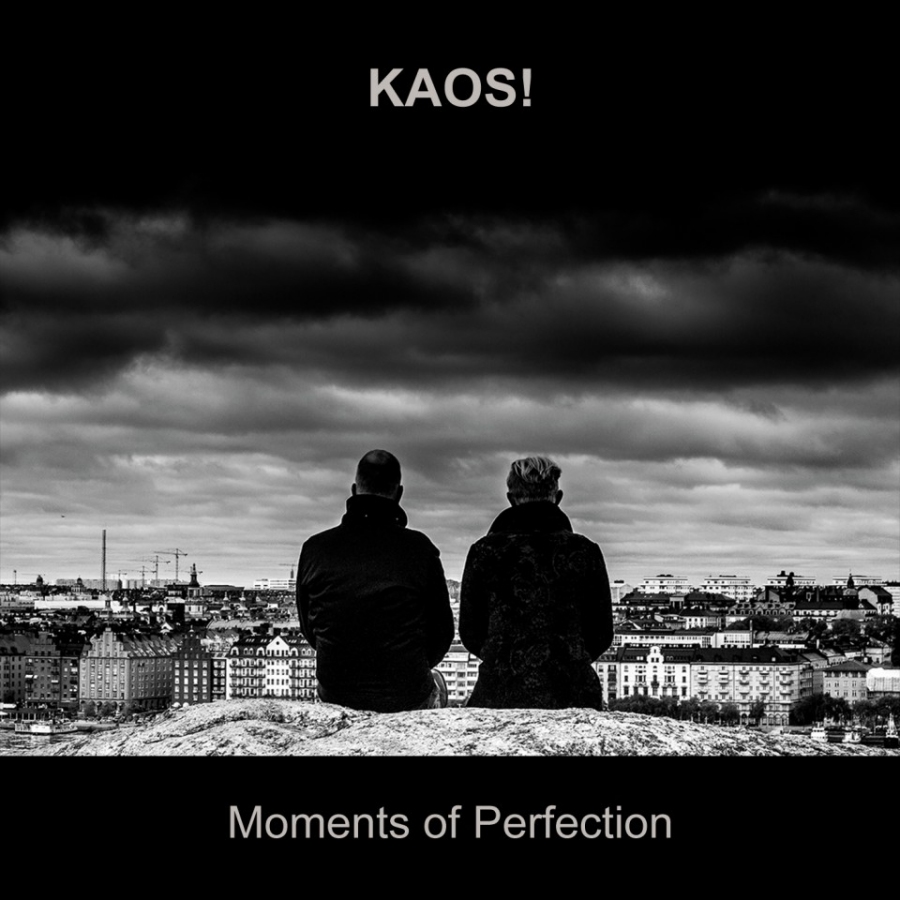 KAOS!, Moments Of Perfection
Shortlist, 12″ep/digital 2015
Jeg og du og vi to, duo igjen. Som så ofte er i segment synthpop. Denne gang KAOS!, som i musikalsk henseende ikke er særlig til kaos men tvert om bærer preg av strikt orden. Eva Kaxe (vokal) og Kristian Oscarsson (synth) fra Stockholm er representanter for glassklar, sylskarp elektropop med nære relasjoner til det melodiøse, refrengsterke 80s.
Med «Moments Of Perfection» tilbyr de to et temmelig bredt spekter av lys, skygge og mørke innenfor en ramme av det minimale. KAOS! er enkle arrangmenter, less is more, med vekt på melodi og refreng. Tross dette makter de på fint vis å vinkle låtene fra det veldig fengende til langt tyngre tristesse. Ambivalensen i KAOS! kommer muligens frem i deres egen beskrivelse:
KAOS! write straightforward catchy synthpop with strong influences from Yazoo, Eurythmics, Kim Wilde, Blondie and other 80's bands and artists. When they write lyrics they get inspired by life and the surrounding society. The lyrics usually end up telling stories about alienation, isolation and the permanent pursuit of happiness and fulfillment.
Catchy pop og eksistensiell tro og tvil, altså. Sporene etter Yazoo og (tidlig) Eurythmics er ikke vanskelige å finne på «Moments Of Perfection», og det kan helt sikkert trekkes tråder til en rekke tilsvarende artister. Personlig mener jeg å høre ekko av Kas Product, men det er ekko som helt sikkert blir forsterket av at navnet – KAOS! – dytter assosiasjonene i den retning. Skjønt, KAOS! antyder her og der et streif av kulde og harde kanter som føles 'europeisk' i uttrykk; noe som understrekes ved at Kaxe gjerne synger tysk og også slenger inn enkelte franske strofer.
«Moments Of Perfection» holder fem jevngode spor, der «Puppet Dance» og «Zurück» deler prisen for fremste øyeblikk av momentant pop; begge to kos av type uforpliktende one-night stand. Hvor stas enn det er, i det lange løp vil nok «Confinement» og «Downfall» vise seg å være vel så givende lytt. «Confinement» er i det hele tatt utgivelsens riktige tour de force, en buktende, analog elektroblues som griper klaustrofobiske tak. «Downfall» er på sitt vis også en blues, en variant fra det europeiske kontinent, en duft av cabaret og chanson i elektronisk drakt. Den duft mye takket være Kaxes vokal, som i «Downfall» er vagt bevende og dramatisk i fraseringene.
Med «Moments Of Perfection» har KAOS! skrudd sammen en vellykket helhet. Fra «What Have I Done» – som nær perfekt bygger fra down- til up-tempo – og til «Downfall» toner ut, inntreffer null sekunder av kjedsomhet. En passe blanding glede og melankoli, en passe blanding kulde og varme, urban synthpop i spranget mellom fortid og samtid. Cirka eksakt som vi liker det.
TRACKS
What Have I Done / Puppet Dance / Confinement / Zurück / Downfall
Produsert av KAOS! og Tobias Ersson