The Last Sensation
Clockwork Orange, The Last Sensation
Temptation Department, cds/digital 2015
Tredve år, tick-tock, tiden går. Sommeren 1985 ble «Sensation Boys» en liten radio-hit, i årene siden og opp til i dag har den tatt posisjon helt i tet blant norsk synthpops genuine klassikere. For ikke å si en norsk popklassiker i det hele og store, fullstendig uavhengig av subgenre.
Trioen Clockwork Orange – bestående av Tor Dybdahl, Jan Berg og Erik Avnskog – slapp kun denne éne singelen («Sensation Boys» b/w «Spellbound», Temptation Records, 1985), men spilte inn øvrig materiale som i de senere år er publisert via samle-LP'ene «The Temptation Tapes» (Vol. 1 og 2). «Sensation Boys» ble for øvrig innspilt i ny(e) versjon(er) av K. Death & The Nightshades (med Avnskog blant medlemmene) allerede i 1986, albumet «Satyricon» (Medicine, 1986) inneholder en streit versjon av låten pluss en variant ved tittel «Syob Noitasnes Wow» som rygger baklengs.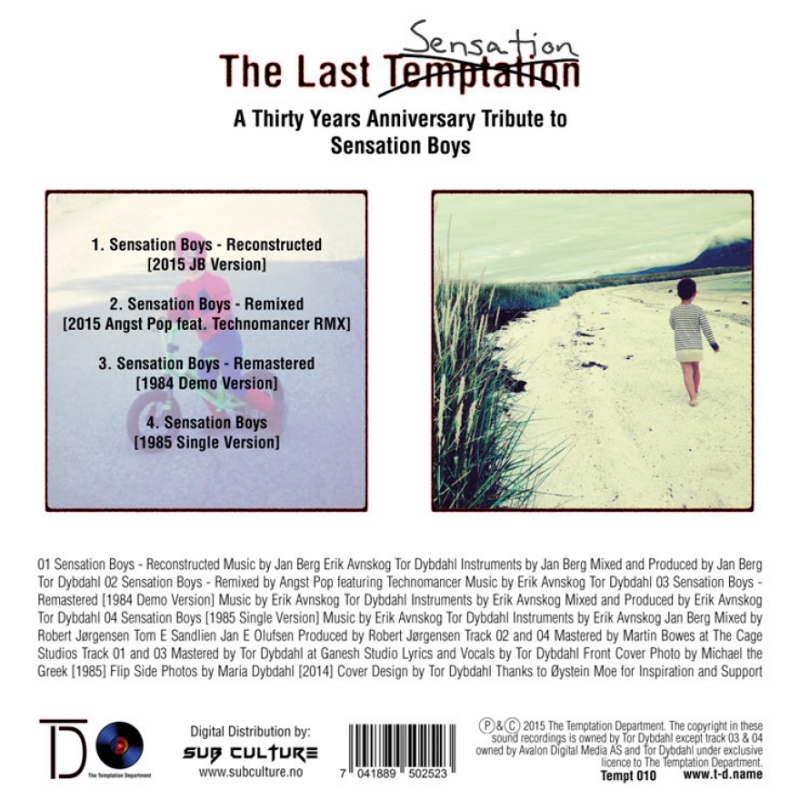 ---
I anledning de tredve år siden første utgivelse gir The Temptation Department (Tor Dybdahls imperium) oss to nye versjoner. «Reconstructed (2015 JB Version)» er ny miks begått av Jan Berg, denne en sval sommmerbris som tar «Sensation Boys» eksakt på pulsen. Veldig fin. Remiksen gjort av Angst Pop og Technomancer er, ikke uventet for den som har litt kjennskap til disse to navnene, av noe tyngre beat og pumper godt. Like fullt veldig tro til originalen, og personlig kunne jeg kanskje ønsket de hadde tatt den noe mer ut – vrengt låten inn og ut, rett og slett gitt den litt kjærlig juling.
Med den originale singlemiksen fra 1985 og demoversjonen fra 1984 – sistnevnte også å høre på «Maskindans : Norsk Synth 1980–1988» (Hommage Records, 2009) – føyd til, blir «The Last Sensation» en riktig fin utgivelse og markering. Den vil bli og holde stand i tredve år til.
TRACKS
Sensation Boys – Reconstructed (2015 JB Version) / Sensation Boys – Remixed (Angst Pop feat. Technomancer RMX) / Sensation Boys (1984 Demo Version) / Sensation Boys (1985 Single Version)