Moments of Movement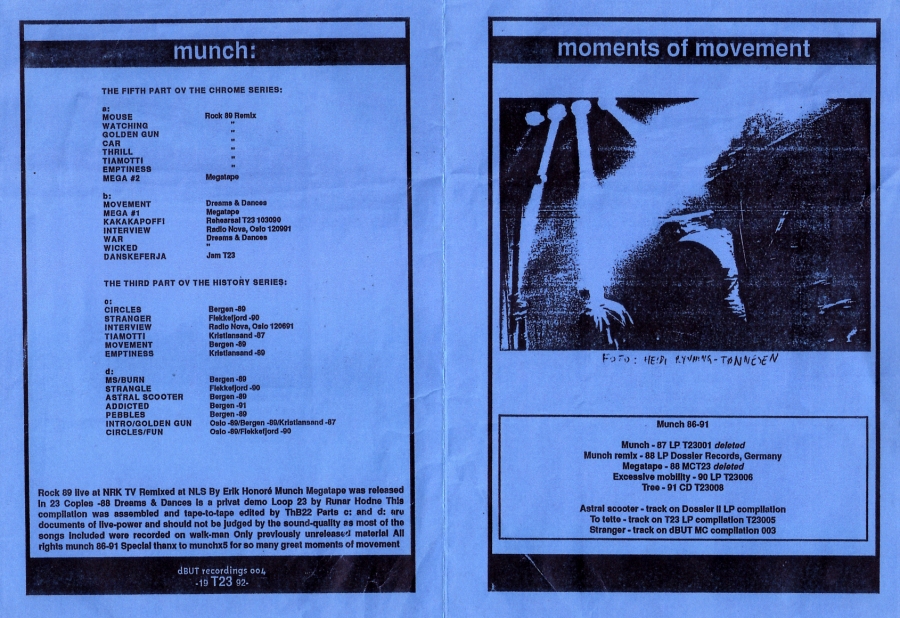 Med utspring i Tordenskioldsgate 23, Kristiansand – T23 – vokste Munch over få år til å bli et industrielt kunstrock-monster uten make eller utfordrere innen landets grenser. Look me in the eye – Eins, Zwei, DIE. Født 21.12 1986 kl. 20:10, død 21.12 1991 kl. 20:10.
Gjennom sine fem leveår spilte Munch inn tre studioalbum, «Munch» (dette i to versjoner, T23 og Dossier i hhv. 1987 og 1988), «Excessive Mobility» (T23, 1990) og «Tree» (T23, 1991). Videre hører det posthume livealbumet «Live» (Tatra, 1992), enkelte kassettutgivelser, og bidrag på diverse samlealbum med i Munchs diskografi. Se MUSICK – Munch for detaljert diskografi.
Munchs plater ble aldri presset i de store opplag, med alt hva det innebærer av relativ utilgjengelighet i dag. «Live» er den eneste utgivelse som lagerføres – fysisk så vel som digitalt – av landets dominerende platekjede pr. akkurat nå. For studioalbumene er de villige henvist til bruktmarked og / eller nedlasting.
Derfor monner det godt når «Moments Of Movement» ble lagt ut til gratis nedlasting her forleden dag. Dette en dobbelkassett utgitt av dBUT i 1992, inneholdende to timer med musikk signert Munch. Her samles liveopptak fra NRK, Radio Nova og løse biter fra land og strand rundt, demoer / øvinger, intervju, og utdrag fra «Megatape» (kassett fra 1988, distribuert i hele 23 eksemplarer). Naturlig nok bærer ikke alt preg av strøken hi-fi, dog er lyden jevnt over av mer enn akseptabel kvalitet.
Du finner den @ www.bruunski.blogspot.com