Nyutgivelser fra Book Of Love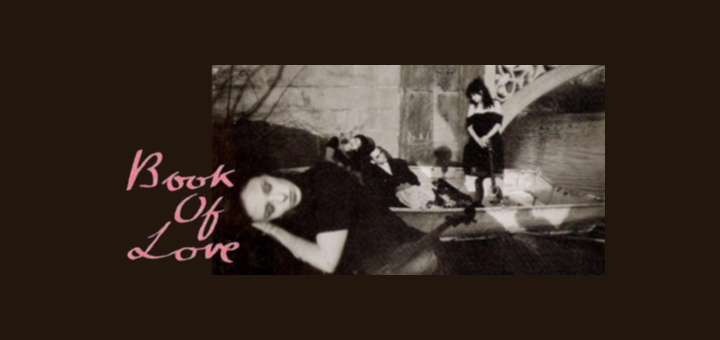 Kvartetten Book Of Love gjorde seg bemerket i bare beskjeden grad. Gjennom nærmere ti aktive år og fire album levert, maktet de aldri å bryte ned de store barrierene. Status tilsier at en forlegen #90 for singelen «Pretty Boys And Pretty Girls» (1988) ble deres største suksess i hjemlandet USA, i Europa fikk de enda mindre gehør.
På ymse club- / dancelister gjorde de dog flere markante innhugg, hvilket betyr at Book Of Love fortsatt huskes godt innen mer spesialiserte sirkler. Book Of Love var Jade Lee, Lauren Roselli, Susan Ottaviano og – den enslige hanen i kurven – Ted Ottaviano (ingen familiære bånd mellom de to sistnevnte), fra start i Philadelphia 1984 til opphør i 1993 holdt besetningen seg intakt.
I format befant Book Of Love seg i et sensuelt skrev mellom synth- / og dancepop, med hva det innebærer om å være mer britiske enn amerikanske i uttrykk. Foruten nevnte «Pretty Boys And Pretty Girls», kan «Boy», «I Touch Roses» og «Alice Everyday» fremheves blant Book Of Loves mest populære og beskrivende titler.
Samtlige fire album for Sire Records – «Book Of Love» (1986), «Lullaby» (1988), «Candy Carol» (1991) og «Love Bubble» (1993) – gjøres i disse dager tilgjengelige i ekspanderte utgaver. Alle er nok verdt sitt, men «Book Of Love» og «Lullaby» er de to av de fire som først og fremst bør sjekkes opp. På langt nære perfekte plater, dog inneholdende solide doser popsødme.
Book Of Love:
Modigliani (Lost In Your Eyes) / You Make Me Feel So Good / Still Angry / White Lies / Lost Souls / Late Show / I Touch Roses / Yellow Sky / Boy / Happy Day / Book Of Love / Boy (demo) / Lost Souls (demo) / White Lies (demo) / You Make Me Feel So Good (demo) / I Touch Roses (demo) / Boy (live) / Happy Day (live) / I Touch Roses (Daniel Miller mix) / Modigliani (instrumental) / We Three Kings
Lullaby:
Tubular Bells / Pretty Boys And Pretty Girls / Sea Of Tranquility / Melt My Heart / With A Little Love / Witchcraft / You Look Through Me / Champagne Wishes / Oranges And Lemons / Lullaby / Pretty Boys 12″ / Pretty Boys And Pretty Girls (Extended) / Tubular Bells/Pretty Boy and Pretty / Girls (Regan's House Medley) / Lullaby 12″ / Lullaby (Pleasant Dream Mix) / Witchcraft 12″ / Witchcraft (Extended Mix) / Enchantra
Mer info via www.bookoflovemusic.com